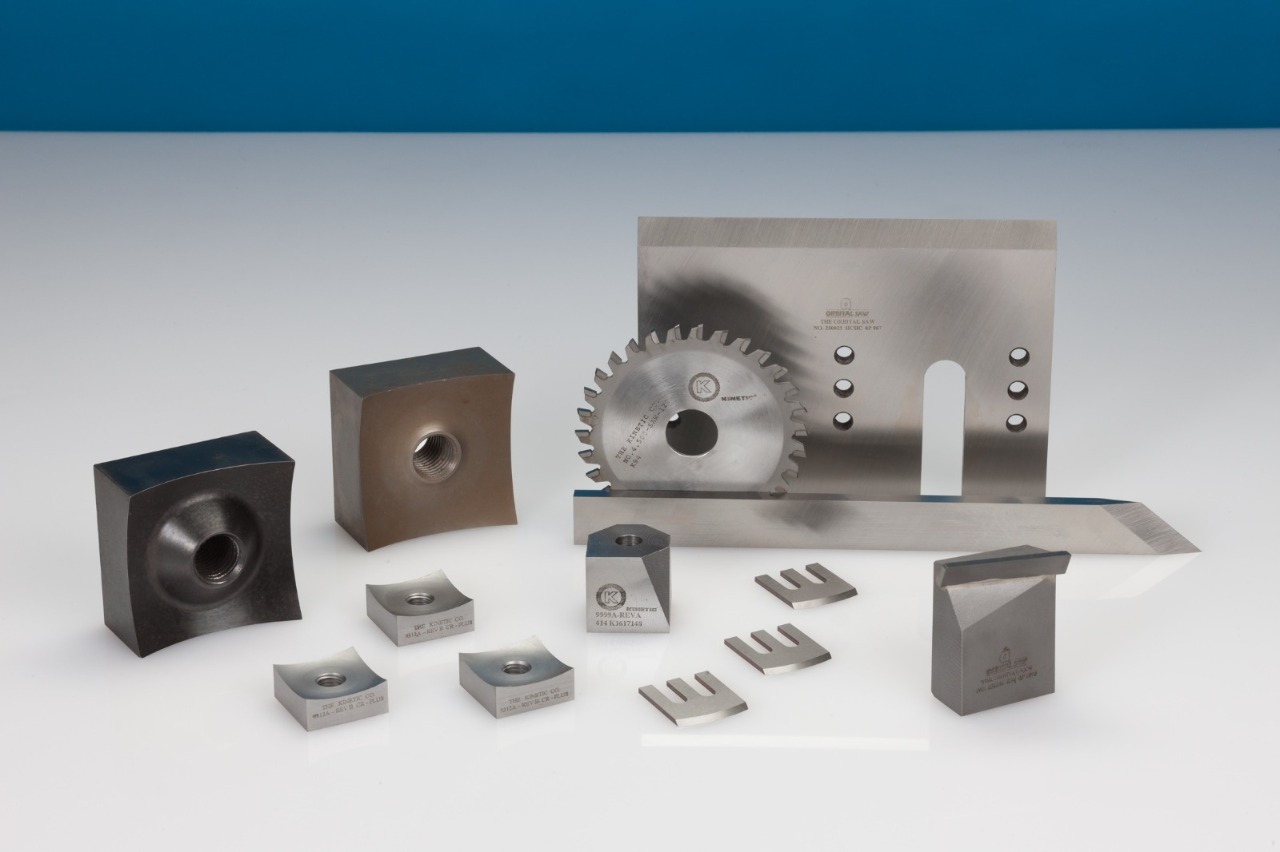 The company specializes in supplying Veneer Blades, Chipper Knives, Lathe Blades, OSB Blades and other products for the wood industry
Joseph Masters, the second-generation owner of Kinetic, knew back then that diversification was going to be the key to Kinetic's future success and longevity. In 1994, after already experiencing great success and growth for 46 years in the Paper Converting Industry as well as the Metals Processing industry, Joseph put together a team of individuals at Kinetic to gather and learn everything possible about the Wood Veneer and Plywood industry and the need for top quality blades.
The team gathered knowledge and experience working in concert with local mills and in some cases worked side-by-side with Plant Managers, even on the processing line. This valuable time spent to learn the business not only led to gaining new business for Kinetic, but more importantly, cemented long-term relationships. Joseph and the team didn't want to be another "supplier". Kinetic strived to be a trusted partner by providing the best quality Veneer slicing blades, Chipper Knives and Clippers. This reputation did not happen overnight. Countless hours of research and work went into this. Some team members even used their at-home internet access to conduct research "off the clock". The team knew then, as Kinetic still knows now, "Anyone can supply a blade or knife for Wood Veneer, but a true partner recognizes what and why the need for a particular material, hardness or bevel angle exist".
The Kinetic approach resulted in customers receiving blades that fit right THE FIRST TIME, with minimal to no adjustment or additional grind in needed. Many changes have occurred over the last 27 years Kinetic has been deeply involved in the Wood Veneer / Plywood industry. Some technological, some process-related, some even personnel-related. There has been one constant at Kinetic that continues today, from the very first day the team was assembled.
Diane Michor, Senior Inside Sales at Kinetic, was part of that first team and remains a driving force in Kinetic's success. Diane has been involved with Kinetic's success in the Wood Market since day one. Her exhaustive work researching materials, processes and history in the early days to her current work on making sure the customer gets the correct part when they need it, even managing to keep track of stock and usage for the customers at their location, greatly reducing the burden for the Purchasing Agents and Plant Managers. Diane has built invaluable relationships with many of the Kinetic Wood Industry partners. Whether it's getting them parts earlier than expected, sharing a personal story or even pictures of grandchildren or vacations, Diane has become a trusted resource and friend to so many in the industry. Current Wood Market Manager, Scott Reboletti, has stated, "This market would not exist without Diane and I couldn't do my job properly if I didn't work in direct concert with her. We all at Kinetic owe her a great amount of gratitude!"
After 27 years in the Wood Industry Kinetic is not slowing down. Kinetic is focusing heavily on both cost and lead-time reduction. Initiatives are in place to not only maintain or exceed the quality Kinetic is known for, but to pass on cost reductions and new value-added features to the already industry-leading offering. So, when a company doesn't need "just another blade", Kinetic is ready and able to provide the best Wood Veneer Slicing Blades (Rotary or Lathe), Pressure Bars, Chipper Blades, Hog Knives, or Clippers. All of these products are supplied with the years of experience and quality that was the task of that team in formed in 1994. Kinetic, now under Third-Generation ownership and a Fourth-Generation employee, prepares for an even brighter future while holding on to the consistency of the last 27 years.