Kinetic has an organizational culture of investing in our team's potential
The Kinetic Co. is specialized in the manufacture of industrial knives and hardened wear products. We have over 70 years of experience in manufacturing and application for the broader demands of the paper industry and related fields and part of our success is due to our team of experts which proposes to provide the best service in products and applications.
Kinetic also has an organizational culture of investing in our team's potential, by selecting employees who excel in certain areas and offering growth opportunities. That's how Dan Jones became the newest member of the sales team.
Dan has been working with us since 2011, when he was hired as a a "C" level assembler for Kinetic's mandrel department and shared some of his successful history working with us.
"At the time I was hired, I had no idea what a winding mandrel was or what it did, but I was going to start building them. As a kid growing up, I always enjoyed taking apart things and (for the most part) putting them back together. With that said, I could not wait to get started!"
"The first couple of weeks here, I was under the tutelage of one of the "old timers". I knew that I was his replacement, so I had to learn as much as I could in a short period of time because he was retiring. I took plenty of notes! By the end of my second week, I was rebuilding mandrels by myself."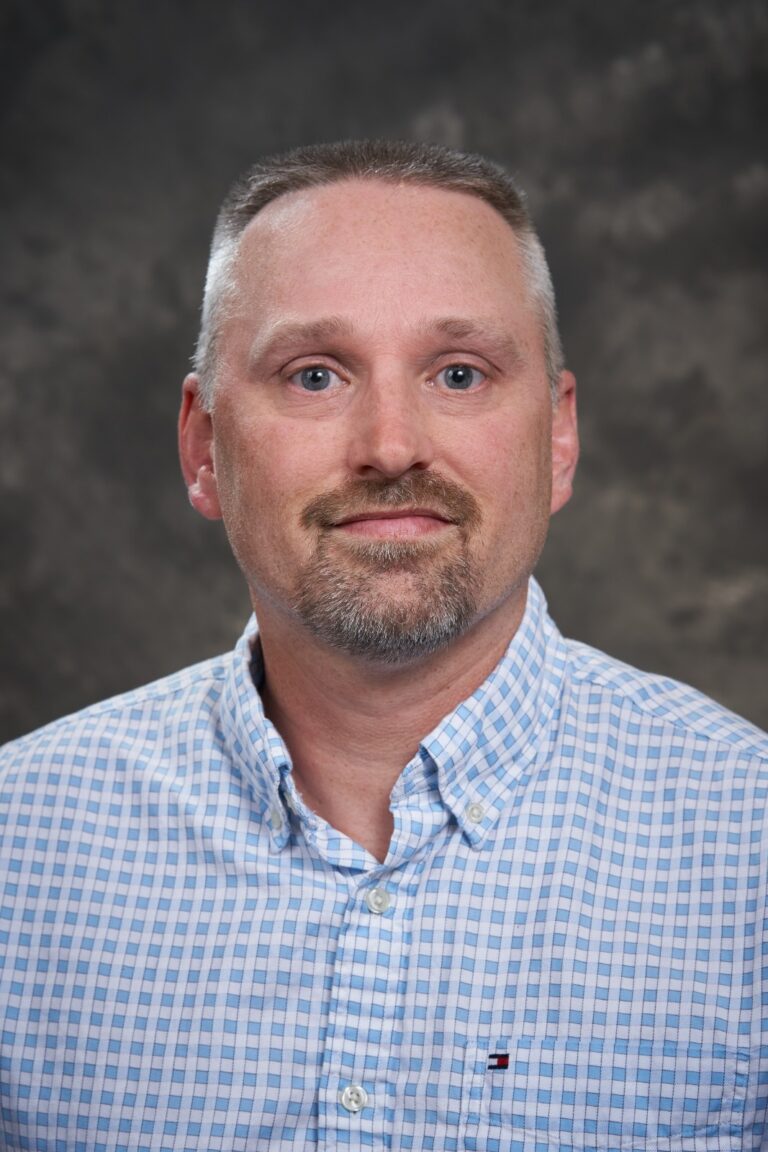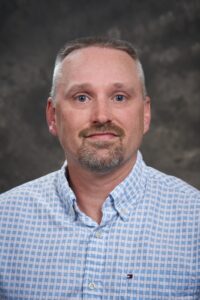 After two years, we decided that it was time for a lead man for the department and Dan was named for the job. This meant he had some new challenges ahead.
"My biggest challenge was to figure out how to lower the lead times for new and repair mandrels. To do that, I had to look at myself first, so I started cross-training and learned how to run different machines including the lathes, milling machines, and straightening presses in the department to maximize my abilities to help my team be efficient and productive."
"By doing this, we were able to keep production moving forward when someone was on vacation or sick. I had a great group of guys that taught me everything about the machines. The next step was to look the way our mandrels were made."
About a year after Dan was hired, Kinetic bought a new milling machine, which was more accurate and cut the lead time by weeks. By the time he left the mandrel department we were meeting or beating the lead times we would give our customers.
"Soon after I was named lead man, Kinetic wanted to start re-manufacturing rider roll for new tissue converting lines. I had never seen one of these before, but I was ready to take one apart and get to know what makes it work."
Once he moved into this new role, Dan passed down his skills to the next generation of mandrel and rider roll builders. "Just like the old timers who taught me."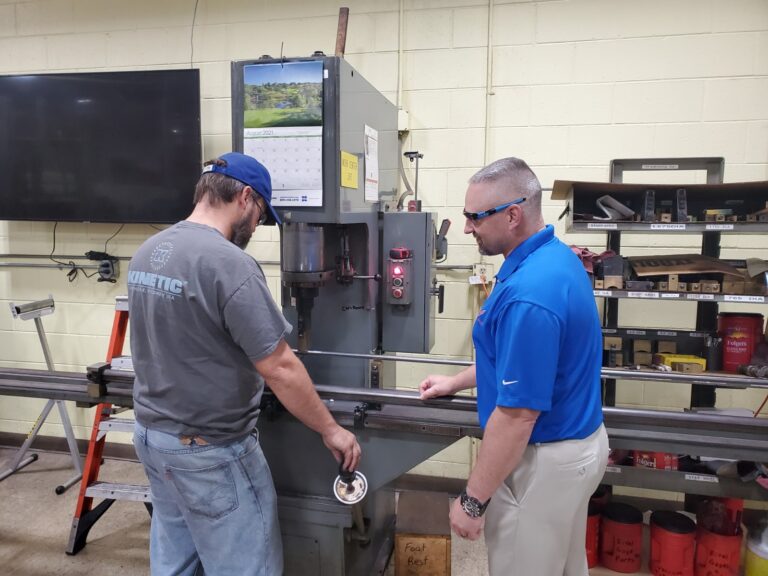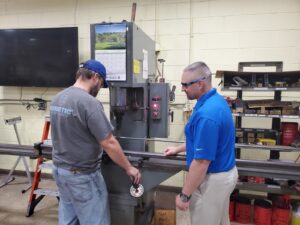 One of Dan's roles as mandrel department lead man was to communicate with the sales team on the progress of the jobs in the department. With weekly meetings that got everyone on the same page to keep the production running smoother and faster than it ever did before. "I really enjoyed the time I spent with sales," he said.
"In mid-August of 2020, I was paged to meet with Cash Masters, owner of Kinetic. I walked into his office and he tells me to take a seat. My first thought is, what did I do now?"
"To my surprise, he tells me that he and our sales team had been talking and my name was brought up for an opening in our inside sales team. He said that the sales team made it a point that I would be perfect fit because of my product knowledge and my willingness to make sure customer needs are taken care of."
After talking with the inside sales team and feeling very welcomed, Dan decided to make a change and, in February 2021, he became a sales correspondent for Kinetic.
"My transition from shop to office was an easy one for me because I had great people training me. They took the time to make sure I understood everything. I've been in the office for over six months and if I have a question, they will stop what they're doing and go over it with me. They have an open-door policy like I have never seen and no judgement."
"I still work closely with our mandrel department team, giving them advice and passing down the knowledge that I have learned over the years. I'm confident in our new lead man's abilities to keep putting out the highest quality products for Kinetic. The new lead man has been in the mandrel department with Kinetic for over 15 years and is very knowledgeable. He is the one who taught me how to use turning lathes."
"I'm very thankful for the management at Kinetic for seeing my drive to want to improve the company and giving me the opportunity to advance my career here. Every day I try to learn everything I can about the business so I can keep growing and advancing at Kinetic. Who knows where it will lead?"
We are happy to have you on our team, Dan. We hope you will remain a part of the Kinetic team for many years to come.