The Heat-Seal Belts present a better and more efficient alternative to help customers to overcome hurdles and make the industry more efficient
Specialized in the manufacture of industrial knives and hardened wear products, Kinetic has a long and solid history in manufacturing and application for the broader demands of the paper industry and related fields.
The company and its team are strongly recognized for their dedication to always listening to better understand the individual needs of their customers and delivering solutions that precisely meet market demands.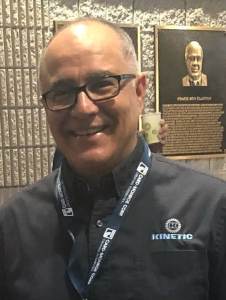 Franklin Narvaez, the Southeast Territory Sales Manager at Kinetic, has been with the company for almost three years and emphasizes the importance of a dedicated team:
"I have been in the Business-to-Business sales for over 30 years, mostly in the Paper and Packaging industry and I can say the most important role as a vendor is to listen to our customers and bring solutions that will make their operation better," he comments. "Kinetic will do everything possible to provide answers to customer issues in the industry to make them better at what they do."
During the challenging years of 2020 and 2021, Kinetic has been working very closely with its customers and has presented solutions, not only to overcome industry hurdles, but to make them more efficient. The Heat-Seal Belts are part of the desire to present a better and more efficient alternative.
"We have a great product, Silver Belt GL-K15 and we back it up with our Kinetic guaranty of great service and reliability as a supplier", said Franklin.
The Silver Belt GL-K15 provides greater added value. Built with PTFE + Aluminum materials will get greater temperature transfer capacity, higher mechanical resistance, high sealing quality for more compact packages and a side guide reinforcement in Kevlar.
Kinetic stocks them in the USA for on-time delivery.
"I have had a great success in my territory introducing this Heat-Seal Belt and my customers really enjoy longer life we were able to provide with our belts," Franklin finishes.
To run a trial order, companies can contact Kinetic through Franklin at 904-322 3550 or franklin.narvaez@knifemaker.com providing the following information:
Belt Width
Belt Circumference
Width of the belt holding rolls
Model of your wrapper equipment